CROSS CONTINENT LAND SPEED RECORD
CHAMPION
This is the story of the machine, and its heritage, which enabled it to set and hold the World's record from New York City to Los Angeles
---
Vital Statistics
| | |
| --- | --- |
| | |
| Model | Dino 246 GTS |
| Year | 1974 |
| Engine Type | DOHC V-6 |
| Fuel System | Six Webers |
| Displacement | 2418 cm |
| Transmission | 5 speed |
| Horsepower | 195 |
| Torque | 165 |
| 0-60 | 7.1 sec |
| Curb Weight | 1186 kg |
| Serial Number | 05984 |
---
1974 Ferrari Dino 246 GTS
A Bad Boy's Dream
By: Jack May
A mother's nightmare and a bad boy's dream, the Ferrari Dino 246 GTS is one of the most exotic and handsome machines ever built. Sergin Farina called the Dino one of the favorite designs of his career. Collectors and connoisseurs admire the extravagant Pininfarina body with its elegant and functional air scoops in the doors and rear fenders, A sleek hoodline below the front wheels adds to the spectacular sculpture. At 7,800rpm, the engine wails like a banshee. Top speed is nearly 150mph.
A father's tribute to his son brought forth the Dino name. Enzo Ferrari credited his dying son (called Dino, Junior) with the idea of a V-6 engine, which, when developed, was excitingly successful. The first Dino 246 was a formula car so powerful and deft it went on to win the Driver's Championship in 1958, Englishman Mike Hawthom at the wheel.
The Ferrari entry for the 1965 Paris Car Show was the first direct precursor of the mid-engine junior production vehicle from Maranello. Power was by a two-litre v-6 engine derived from the successful racing Dino. Unique styling was featured: a reverse curve rear window, elegant rear buttresses, including windows for better rear vision, and the delicious smoothline Pininfarina shape. Subsequent minor changes resulted in the Ditto 206 GT, which, reached production in 1968. According to the factory, about 150 examples were manufactured, all with bodies in aluminum. The next year saw introduction of the 246 GT, a heavier slightly larger, steel car with increased engine displacement. Ferrari saved the best for last, and in March 1972 introduced the wind-in-the-hair model, the 246 GTS.
The first production Dino that I saw was at the Ferrari showroom in Modena in September 1971, while accepting delivery of my special-order 365 GTB/4. Instantly I coveted one of the "baby" cars. But my plate was full and I hail already spent my automotive allowance. Still, $9,000 at the factory seemed (and was) a bargain, even in the dollars of that era.
In the early autumn of 1973, sales of the Dino GT and GTS were stagnant. Automotive writer derided the "non-Ferrari" and gave it no respect. They said it was not a "real" Ferrari, what with only six cylinders and without a Ferrari nameplate or prancing horse anywhere. Besides, they jibed, it was too slow and too small. Accordingly, the factory announced that production of the junior mid-engine model was being halted.
The news made me act to fulfill my two-year-old dream of owning the sleek little car. My bank account had recovered somewhat and I was ecstatic with the Ferrari I already had, So I was ready. As I recall, only five Dinos were in dealers hands in the USA at that time. For exactly $16,500, a pristine white spyder with red and black Daytona seats moved into my little stable. Obviously, I was not alone in rushing to the sales counter, for construction continued another full year, finally ceasing under the worldwide economic depression in 1974 at 1274 cars.
In the spring of 1975, an entry blank arrived on my desk. As an amateur sports car racer, I was accustomed to invitations to compete. But this was a horse of a different color. This was a challenge to apply for "possible acceptance" as an entrant in the Cannon-ball Sea-to-Shining-Sea Memorial Trophy Dash, the "anti-establishment," illegal, cross-country race sponsored by Brock Yates.
The Cannonball accepted me and the Dino as official entrants (of course). My friend, Rick Cline, SCCA National Champion and National Racing Mechanic, agreed to be my co-driver.
Automotive journalists had cited the Dino as a machine that is forgiving, with beautifully balanced handling and road holding. Often mentioned is the reasonable driver anti passenger comfort that makes it ideal for long, high-speed use. Contributing are an excellent driving position, well laid out controls, a nice ride, and a minimum of wind and road noise at speed. In other words, the definition of the ideal machine to drive cross-country at megaspeed.
So we did not have to do much to Dino S/N 05984, which then had about 8000 miles on the odometer. We stuck a 15-gallon fuel cell in the rear trunk,installed driving lights, and added a CB radio and radar detector. The baby Ferrari was prepared, as always, to do what it was designed for. The challenge was for the drivers.
Rick and me? We were psyched!
Alone, I headed from my home in Gainesville, Florida, toward the Red Ball Garage on East 31st Street in Manhattan. It was a great start, and no less exuberant than the rest of the adventure, as I covered the 210 miles to Savannah in a little less than two hours. Included was a short stop to receive a warning from the Georgia Highway Patrol. ("Warnings" seem to have gone the way of the Florida Panther.)
In New York City, my co-driver and I smoked the rear tires of the white charger from the starting point at 10:07pm, Wednesday, April 23, 1975, and hurtled into a wet tunnel of night. The cockpit of our race car had less spare room than John Glenn had on his orbit. The diminutive area was jammed with maps, Gatorade, caffeine pills, binoculars, granola bars, and most of all, high hopes. It was a long way to LA. In fact, nearly a day and a half. The dash we made in the Dino is now automotive history and has been recorded in detail many times in this (December 1981) and other publications. Thirty-five hours and 53 minutes, and an average of 83mph, remains the fastest time between these major cities.
The Dino has finally gained the respect it deserves. Rick Cline and I contributed. My fast, white machine was specially honored when Enzo Ferrari accepted Cannonball victory photo and gave me a nice Ferrari album with a congratulatory inscription in his traditional purple ink.
Will the Dino's New York City to Los Angeles record ever he eclipsed? It seems unlikely. Today's more crowded highways, closer police surveillance, and different legal-liability climate all combine to seriously curtail ultra-high-speed to touring.
Cline and I recently spent noon together, naturally discussing cars. Of course we reminisced about the Cannonball. And what would we drive if we were to rerun cross-country for fun, or to I defend our record? We have not forgotten that, barring a stint in jail and some gross misdirections, S/N 05984 was on schedule to arrive at the Pacific, less than 34 hours, at an average speed near 90mph. It still can.
And the Cannonball Dino? I can't imagine a happier car. Well maintained. Well stabled. Well driven. Fast. And famous. Alas, mothers, this machine ignored your concerns and was contrived to excite had boys. It succeeds.
The above article was originally published in the August 1993 Issue of Car Collector pg. 27
---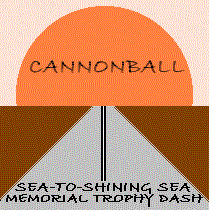 Copyright
Web Design by Mark Carroll