The Reverend Mark S. Carroll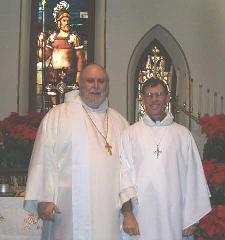 Curtis Bradley and Mark Carroll
Ordination, Feast of the Holy Innocents 2004
Chapel of the Centurion, Fort Monroe, Virginia
Grace to you and peace from God our Father and the Lord Jesus Christ

Greetings! I am Mark Carroll. Pictured above with me at my ordination is the Right Reverend Curtis Bradley at the historic Chapel of the Centurion in Fort Monroe, Virginia. The Chapel was completed in 1854, and is my "home church" where I was baptized and ordained, my wife and I had our marriage blessed in an Epsicopal Church service here, and my family members were baptized and confirmed in the Epsicopal Congregation.

Curtis and I are fellow centurions and co-workers for Christ in the international non-denominational Christian fellowship, the Order of Centurions.


Apostolic Succession

1. Andrew, the Apostle of our Lord. Founded 38 2. Stachys, the Disciple, one of the 70 Apostles. 38 – 54 3. Onesimos 54 – 68 4. Polykarpos 69 – 89 5. Ploutarchos 89 – 105 6. Sedekion 105 – 114 7. Diogenes 114 – 129 8. Eleftherios 129 – 136 9. Felix 136 – 141 10. Polykarpos II 141 – 144 11. Athenodoros 144 – 148 12. Euzoios 148 – 154 13. Laurentios 154 – 166 14. Alypios 166 – 169 15. Pertinax 169 – 187 16. Olympianos 187 – 198 17. Markos I 198 – 211 18. Philadelphos 211 – 214 19. Kyriakos I 214 – 230 20. Kastinos 230 – 237 21. Eugenios I 237 – 242 22. Titos 242 – 272 23. Dometios 272 – 303 24. Roufinos 303 25. Provos 303 – 315 26. Metrophanes I 315 – 325 27. Alexandros 325 – 340 28. Paulos I, the Confessor 340 – 41, 342 – 34, 348 – 50 29. Eusebios 341 – 342 30. Makedonios I 344 – 348, 350 – 360 31. Eudoxios 360 – 369 32. Demophilos 369 – 379 33. Evagrios 379 34. Maximos I 380 35. Gregory, the Theologian 379 – 381 36. Nectarios 381 – 397 37.John I, the Chrysostom 398 – 404 38. Arsakios 404 – 405 39. Attikos 406 – 425 40. Sisinios I 425 – 427 41. Nestorios 428 – 431 42. Maximianos 431 – 434 43. Proklos 434 – 447 44. Flavianos 447 – 449 45. Anatolios 449 – 458 46. Gennadios I 458 – 471 47. Akakios 471 – 489 48. Favritas (Fravitas) 489 – 490 49. Euphemios 490 – 496 50. Makedonios II 496 – 511 51. Timotheos I 511 – 518 52. John II, the Cappadocian 518 – 520 53. Epiphanios 520 – 536 54. Anthimos 535 – 536 55. Menas 536 – 552 56. Eutychios I 552 – 565, 577 – 582 57. John III 566 – 577 58. Eutychios II 577 – 582 59. John IV, the Faster 582 – 595 60. Kyriakos II 595 – 607 61. Thomas I 607 – 610 62. Sergios I 610 – 638 63. Pyrros I (later returned as Pyrros II) 638 – 641 64. Paulos II 641 – 652 65. Pyrros II [same as Pyrros I] 652 or 654 66. Petros 652 – 664 67. Thomas II 665 – 668 68. John V 668 – 674 69. Constantine I 674 – 676 70. Theodoros I 676 – 678, 683 – 686 71. Georgios I 678 – 683 72. Paulos III 686 – 693 73. Kallinikos I 693 – 705 74. Kyros 705 – 711 75. John VI 711 – 715 76. Germanos I, the Confessor 715 – 730 77. Anastasios 730 – 751 78. Constantine II 754 – 766 79. Niketas, the Slav 766 – 780 80. Paulos IV 780 – 784 81. Tarasios 784 – 806 82. Nikephoros I 806 – 815 83. Theodotos, Melissenos 815 – 821 84. Antonios I, Kasymatas 821 – 826 85. John VII the Grammatikos 826 – 842 86. Methodios I, the Confessor 842 – 846 87. Ignatios I, the Prince 846 – 857, 867 – 878 88. Photios I 857 – 867, 878 – 886 89. Stephanos I, the Prince 886 – 893 90. Antonios II, Kavleas 893 – 895 91. Nikolaos I, the Mystic 895 – 906, 911 – 925 92. Euthymios I 906 – 911 93. Stephanos II 925 – 928 94. Tryphon 928 – 931 95. Theophylctos, Lakapenos, the Princeling 933 – 956 96. Polyeuctos 956 – 970 97. Vasilios I, Skamandrenos 970 – 974 98. Antonios III, Skandalios, also Stoudites 974 – 980 99. Nikolaos II, Chrysoverges 984 – 995 100. Michael, the Syrian 990 101. Leontius 993 102. John 1015 103. Theopemptus 1037 104. Hilarion 1051 105. George 1072 106. John II 1080 107. John III 1089 108. Ephraim 1096 109. Nicholas 1098 110. Nicephorus 1108 111. Nicetas 1124 112. Michael II 1127 113. Clement 1197 114. Constantine 1136 115. Theodore 1160 116. John IV 1164 117. Constantine II 1167 118. Nicephorus II 1185 119. Matthew 1201 120. Kyrill I 1205 121. Joseph 1240 122. Kyrill II 1250 123. Maximus 1283 124. Peter 1308 125. Theognostes 1328 126. Alexis 1353 127. Cyprian 1380 128. Photius 1410 129. Isidore 1432 130. Jonah 1448 131. Theodosius 1462 132. Philip I 1467 133. Gerontius 1472 134. Zosimus 1491 135. Simon 1496 136. Barlaam 1511 137. Daniel 1522 138. Joasaph 1539 139. Macarius 1542 140. Athanasius 1564 141. Philip 1565 142. Cyrill III 1568 143. Anthony 1572 144. Dionysius 1582 145. Job 1587 146. Hermogenes 1606. 147. Philaret 1620 148. Joasaph I 1631 149. Joseph 1642 150. Nikon 1653 151. Joasaph II 1667 152. Pitirim 1672 153. Joachim 1673 154. Adrian 1690 155. Metropolitan Stephen (Yavorsky), of Rostov, 1701 156. The Most Holy Synod 1721–1918 157. Patriarch Bishop Tikhon – October 19, 1897158. Bishop Josef Kedrovsky / Kedroffsky – 1923 159. Bishop Josef Klimovicz – 1935 160. Bishop Peter A. Zurawetsky – October 15, 1950 161. Bishop Karl Hugo Pruter – November 7, 1967. 162 Bishop John Jones, 1994. 163 Bishop Curtis Bradley, 1995 -- ordained Presbyter Mark Carroll - 28 Dec 2004