Asberry Estes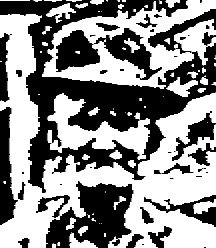 At the age of 95, Asberry Estes gave the following deposition to demonstrate his mental soundness.
************************** DEPOSITION *************************
State of Kentucky, County of Lee
Asberry Estes, aged 95 years and 45 days, who first being duly sworn, states that he was born March 16th, 1843, that he is of sound mind and memory, consider ing this frail and transitory life, that he is now pensioned at the rate of $100.00 per month, that he married Iby Newton, a daughter of Allen Newton, March 23, 1865, that his marriage license was obtained at Irvine, Kentucky, and was married by Elizah Gabbard, a Baptist minister, and that his wife died May 12, 1914. There were born to this marriage (8) eight children and raised six to be grown, and there are (3) children living now. He has one daughter still single. She was sixty-four years of age her last birthday.
He states that he is acquainted with Daniel I. Estes, who is the first born child of his brother Hiram Estes, that he is an uncle by blood, and that he is a double cousin to all my children, that I am living just across the Kentucky River from the place where Daniel Estes was born on October 7th, 1862. I sit where the house stood in which his birth took place. I was at Nashville, Tennessee, at the time he was born.
The name of my captain was Ance Powel of Irvine, Kentucky [Co A, 8th Ky Vol Inf]. I fought in the Perryville battle where he defeated General Bragg, also at Stone River, Tennessee, where he also met and defeated General Bragg. I was in the battle of Chickamagua, Georgia, where we were driven back to Chattanooga - I was in the fight at Lookout Mountain, known as Missionary Ridge, where we attacked the Confederate Army under the command of Longstreet and Bragg. Our commander was General U.S. Grant. We defeated the Confederate Army and followed them to Dalton Georgia, where we again defeated the Confederate Army. Then we went back to Chattanooga, Tennessee, where I was discharged on the 17th day of November, 1864.
We went by train to Louisville where we were paid off. We came on to Lexington by rail, there we hired what was then known as hacks and came on to Irvine. I walked to my mother's home right where Grant Newman now lives at Yellow Rock, then in Owsley County. I have never lived further than 15 miles from the place where I was born, on Buck Creek on what is now the farm of Jonah Estes in Estill County. I have moved more than forty times since I was married, having resided here in Heidelberg, Kentucky, where I now own my own home by deed from Arch Cornett and wife dated August 4, 1923, and of record in the office of the Lee County Clerk in Deed Book No. 43, by the then clerk of said court, S.M. Estes.
The affiant further states that his father's name was Charlie Estes, that the name of his grandfather was Basil Estes, who came to Estill County from North Carolina, that his mother's name was Sarah Hatton, that his Grandmother was 'Clem'.
I had four brothers, Fielden Estes, Basil Estes, Hiram Estes and Charlie Estes. Had three sisters who lived to be grown and married. Polly Estes who married Levi Winkle, Deby Estes married Laurence Ward, Polly Estes married Jess Pittman all of whom raised their families in Kentucky excepting brother Basil who was married four times and the last time I heard of him he was Living in Granger County, Tennessee, where he died.
The affiant further states that he was never indicted for any crime or misdemeanor or ever cited to appear in any court or involved in any civil case excepting the United States Pension bureau.
Affiant further states that he never challenged any man to a duel with deadly weapons, but that he was challenged to fight a fist fight by on whose name was Joe Crawford. Affiant states that he won the fight and Crawford died his friend.
I have dictated this statement of my free will and act to A.P. Estes this 30th day of April, 1938.
Signed Asberry Estes
Witnessed by A.L. Durbin and Harrison Couch, Heidelberg, Kentucky
************************** DEPOSITION *************************
---
Mark Carroll 1:22 PM 1/27/2013