BOONE FAMILY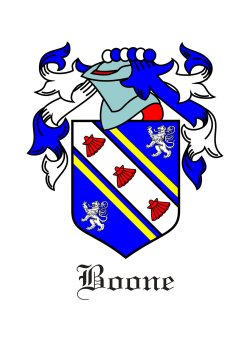 ---

NAME: First found in Sussex. Humphry de Bohun accompanied William the Conqueror to England and established the family in England. In America, the name occurs most often today in the southern states at about 1:1,000. In the 1850 census it was found in North Carolina at 1:500, Kentucky at 1:750, and Virginia at about 1:5,000.

SHIELD: Blue with a silver stripe and a gold border between lion rampant and three red shellfish (as shown) Another is two lyons rampart with a swan crest.
---


HISTORY: George Boone III, came from Exeter, Devonshire, England with his wife Mary Maugridge. They settled in Berke County, Pennsylvania. Squire Boone married Sarah Morgan and they gave birth to the most famous pioneer, Daniel Boone . The Boone's moved to Virginia and then to North Carolina, and then on to Kentucky. I thought for a long time that Zetta and I were related through the Boone line. with George being a common ancestor. However, recent DNA family line studies seem to indicated that the descendents of James Webb in of Letcher County, (son of John Webb and Mary Boone?), are not of the same line. Zetta is a descendant of Daniel Boone, and I show her line below.

---
Some Direct Descendants of George Boone


1 George Boone 1666 -
.... +Mary Maugridge 1669 -
. 2 George Boone Aft. 1690 -
. 2 Sarah Boone
. 2 Squire Boone
....... +Sarah Morgan
.... 3 Squire Boone
.... 3 Daniel Boone 1734 - 1820
.......... +Rebecca Bryant
....... 4 Lavinia Boone 1766 - 1802
............. +Joseph Scholl 1785 -
.......... 5 Leah Scholl
................ +John Newman
............. 6 Celia Newman
................... +Doc Estes
................. 7 Lavinia Estes
....................... +Henry Price Abt. 1845 -
.................... 8 Grant Price Abt. 1871 -
.................... 8 Eliza Jane Price 1872 -
.................... 8 William C. Price Abt. 1875 -
.................... 8 Robert Price 1877 - 1967
.................... 8 Moses Price Abt. 1879 -
.................... 8 Brack H. Price Aft. 1881 -
.................... 8 Harvey Price Aft. 1881 -
.................... 8 Thomas Price Abt. 1882 -
.......................... +Lucinda Dunaway 1887 - 1932
....................... 9 Herman Charles Price 1906 -
....................... 9 Flora Price 1908 -
....................... 9 Nannie Mae Price 1910 - 1999
............................. +Richard Nathaniel Lyons 1887 - 1958
.......................... 10 Richard Charles Lyons 1932 - 2001
.......................... 10 Sister Lyons 1935 -
.......................... 10 Anna Lee Lyons 1943 - 1962
.......................... 10 [2] Zetta Lyons 1948 -
................................ +[1] Mark Carroll 1949 -
....................... 9 Dorothy Price 1912 - 1994
....................... 9 Effie Price 1914 - 1995
....................... 9 Rowenna Price
....................... 9 Thomas Price 1915 - 1915
.
. 2 John Boone
. 2 Joseph Boone
. 2 Sarah Boone

---

Sources:
Boone Information Site
Boone Society

---

Updated 3:25 PM 1/26/2013
Mark S. Carroll