CARROLL FAMILY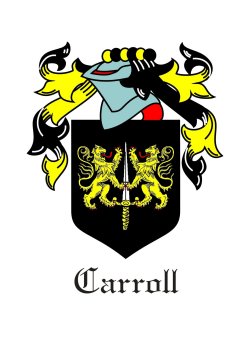 ---
Name: Name bestowed on the family by the King of Ireland as Cearbheoil -- (pronounced kar'el) believed to be from Gaelic for "hacking" (as with a sword) or perhaps "slaughter", preferably "Champion Warrior"
Shield:T wo golden lions rampart with a silver sword between in a field of black. There are many variations to this scheme with different branches of this family.
Battle Cry: In Fide et in Bello Forte (or fortis) "Strength in Faith and in Battle"
---
ANCIENT PAEAN OF CARROLL
H ail, sword of Carroll
Oft hast thou been in the great woof of war, Oft giving battle, beheading great princes
Oft hast thou gave a raiding in the hands of kings of high judgment
Oft hast thou divided the spoil when with a king worthy of thee
Oft hast thou been among kings, oft among great hands
Many were the kings with whom thou has been when thou madest fight
Many a shield has thou cleft in battle, many a head, many a chest, many a fair skin1
---
FAMILY HISTORY

The family name of Carroll is Gaelic Irish, originally Cearbheoil.3 Bryen Boironhe, Monarch of Ireland, gave the family the name CARROLL in 1027AD.3 The Carroll coat of arms included a sword (symbolic of military service); with two golden, rampant, lions (symbolic of courage and strength); in a field of black.

Carroll is an Irish patronymic name, Anglicized from the Gaelic Cearbhall, a given name of uncertain origin, but likely derived from cearbh = hacking...which probably described the use of a weapon.

Carroll has its origins from Oilioll Oluim, King of Munster, in 234AD. He was a descendant of Duach Donn Dalta Deagha, Monarch of Ireland.4 (Although there is one chart still in existence that goes back to Adam via Charlemagne5) Oiliool married Saba, daughter of Con of the Hundred Battles. Their descendants included Maolroonas, Teiges, Donoughs, Mores, and Cians.6 (See Clan Cian - Carroll On Line)

Donough O'Carroll, King of Ely (now Tipperary Central Ireland) and Oirginall, founded abbeys of Melliford (1142), Newry (1148), and Crocinafin (1181). Maolronna IV founded a Franciscan Convent of Roscrea in 1490. A troop of thirty O'Carrolls, sons of Donough, formed a troop in the service of Charles I. The Carrolls at this time owned 379,000 acres in Ireland. These estates were confiscated in 1681, and many Carrolls emigrated to the American Colonies.7

There were many famous Carrolls in the Maryland Colony, all related through the O'Carrolls of Tipperary & and King Florence O'Carroll of Ely (1205): Charles Carroll of Carrollton signed the Declaration of Independence (the only Roman Catholic, the richest with the most to lose, and the only one to give his address!) John Carroll was the first bishop of the United States, and Daniel Carroll, John's brother, signed the Articles of Confederation and the Constitution.8

Colonial Carrolls settled in other colonies as well. Some came from their Maryland homes. Others like my 3rd Great Grandfather Carey were in New Jersey, and later moved through Pennsylvania, Carrolls migrated westward via the Valley that ran from Pennsylvania to North Carolina, and down the Ohio River Valley. The Carroll line spread throughout the Midwest and Upper South. William Carroll of Pennsylvania, became the Governor of Tennessee. Another William H. Carroll was a Brigadier in the War between the States.

Our line is believed to be traced to 18th century New Jersey and our first known American birth of Carey Carroll in about 1784, and of his father's home in Millfen, Pennsylvania. Some go further to link this family to the Carrolls of Salem Massachusetts in the first settlement--though I have not found sound evidence of that connection. The genealogy I will show below begins with Carey's grandfather, Daniel, who sired Carey Carroll at the end of the Revolution.

My father told me of the old Family Bible kept up in Northern Kentucky, and that Charles Carroll of Carrollton was listed in it. I can find no direct kinship, other than clan, to Charles Carroll of Carrolton. However, in research in the Maryland Holdings at the Frederick Library, it was written that Charles Carroll visited occasionally with a Carroll kinsman, a farmer and Revolutionary War soldier in Pennsylvania after the war. It is worth noting that Mifflin sits directly north of Frederick and Carrollton by some 120 miles via Harrisburg. In Morris County, NJ, there were two regiments and one battalion of militia rasied, and several battles in and around the county. All able-bodied men comprised the militia, and so I fully expect that James and his brothers served and fought during the war, although I find no Carroll names listed in the NJ records.

Carey married Ellen McMillen (McMullen) in Mifflin, and later in Ohio, the Carroll girls married McMillen men, and so there is likely a family connection that continues today. Carey's son, James, traveled to Indiana and in Clark County, (across from Louisville) where he married Hanna E. Blizzard. (The Blizzards had come to Indiana from the South Fork of the Potomac in current day West Virginia.) James and Hanna moved to Brown County. Carey and his son James were listed in the 1850 census. township of Lewis not far from the River.

William Taylor Carroll was born in about 1847 in Ohio. The son of James Carroll (b Penn in abt. 1816) and Hannah (b. in IN abt 1820). He appears as Taylor in 1850, and then as F Wm. T. Carroll on the 1860 Brown County, Lewis Township, OH census. His siblings were Elizabeth (Ellen) 1843, Mary M. 1845, Sarah J. 1850, Lenora A. 1852, and Columbus 1854 (this name appears in another branch of the family in Pennsylvania). The Carrolls moved across the Ohio River and were on the Bracken County census in 1870. James had died. Hannah is living with her daughter Sarah, and Ellen is two houses below. William may be listed as Florence on this census (perhaps for King Florence O'Carroll of Tipperary 1205) He, however, is listed as William T. Carroll on the 1890 Veterans Census in Versailles, and his Knights of Pythias ceremonial sword is inscribed with "Wm. T. Carroll" He is buried in the Versailles Cemetery under KOP rights. I was later inducted with that Sword into the same Gray Lodge.
---
O'CARROLL OF THE PLAIN OF BIRR

L ords to whom great men submit

Are the O'Carrolls of the plain of Birr

Princes of Eile as far as the lofty Slieve Bloom

The most hospitable land in Erin

Eight districts and eight Chiefs are ruled

By the Prince of Eile of the land of herds

Valient in enforcing their tributes

Are the troops of the yellow-ringletted hair9
---
Direct Descendants of Daniel Carroll



   

Direct Descendants of Daniel Carroll
			
-1  -Daniel Carroll-b: 1710
..--+Margaret Young-b: 1711-1713 in Dover, Morris, NJ
.-2  -James Carroll-b: 1742 in Dover, Morris, NJ
.....--+Elizabeth Carey-b: 1747
....-3  -Carey Carroll-b: 1784 in ,,NJ
........--+Ellen McMullen-b: 1782 in ,,PA
.......-4  -James Carroll-b: 04 Jan 1816 in ,,PA
...........--+Hannah E. Blizzard-b: 20 Sep 1820 in ,,IN
..........-5  -William Taylor Carroll-b: 06 Jul 1847 in ,,OH
..............--+Mary Elizabeth McAtee-b: 04 Jun 1854 in ,,KY
.............-6  -Jesse Marshall Carroll-b: Jun 1884 in ,, KY
.................--+Georgia Agnes Corbin-b: 08 Aug 1883 in ,,KY
.................-7  -James Sutherd Carroll-b: 16 Apr 1913 in Lexington, Fayette, KY
.....................--+Edith Rebecca May-b: 22 Sep 1914 in Berea, Madison, KY
....................-8  -Judith Ann Carroll-b: 02 Oct 1945 in Lexington, Fayette, KY
....................-8  -Mark Sutherd Carroll-b in Lexington, Fayette, KY
........................--+Zetta Doyle Lyons-b: in Richmond, Madison, KY
....................-8  -Susan Lynne Carroll-b: in Lexington, Fayette, KY
.............-6  -John Carroll-b: Jun 1881
.............-6  -Berdie-b: May 1880
.............-6  -Charles C. Carroll-b: Bef. 1880
.............-6  -unknown Carroll-b: Bef. 1880 in ,,KY
..........-5  -Ellen Carroll-b: 1849 in ,Brown,OH
..........-5  -Elizabeth Carroll-b: 1843 in ,,OH
..........-5  -Mary Melissa Carroll-b: 14 Feb 1845 in ,,OH
..........-5  -Sarah J. Carroll-b: 1850 in ,,OH
..........-5  -Leonora A. Carroll-b: 1852 in ,,OH
..........-5  -Columbus Carroll-b: 1854 in ,,OH
.......-4  -Matilda Carroll-b: 04 Jan 1806 in 1860
.......-4  -George Carroll-b: 1812
.......-4  -Joanna Carroll-b: 10 May 1829 in Augusta,Bracken,KY
.......-4  -Eliza Carroll-b: 1813
....-3  -William Carroll-b: 1763
....-3  -Charity Carroll-b: 1775
....-3  -Thomas Carroll-b: 1790-1830
....-3  -Daniel Carroll-b: 28 Jun 1765
....-3  -Son Carroll-b: 1796-1820
....-3  -James Carroll-b: 1775
....-3  -Sarah Carroll-b: 28 Apr 1780
....-3  -Eunice Carroll-b: 1775
.-2  -Hurcules Carroll-b: 1733
.-2  -Thomas Carroll-
.-2  -Elizabeth Carroll-b: 1748 in Morristown,NJ
.-2  -Richey Carroll-
.-2  -John Carroll-
.-2  -Daniel Carroll-b: 30 Aug 1745
.-2  -Mary Carroll-
.-2  -Sarah Carroll-


---
Carroll Family Favorites

* Carroll Mail List
* Music of the Charles Carroll Family
* Carroll Cables
* Clan Cain - (Carroll & Septs)
Edward Mason's family tree, and our correspondence with the McMillans over the years `
---
Our Family
---
Sources:
1. Translated by Kuno Meyer, Journal of the American Historical Society, as cited in Carroll below.
2. "The Settler, the Signer, the Barrister: sorting out the Carrolls", Evening Sun, 1/6/86
3. "The Carrolls in Maryland" a manuscript by Nancy Gordon Carroll (Maryland Historical Soc. Baltimore)
4. Idid., Evening Sun
5. Ibid., Carroll
6. Ibid., Evening Sun
7. Ibid., Carroll
8. Ibid.
9. the Poet O'Heerin, died 1420, From the Clan_Cian page
10. http://www.doublegv.com/ggv/militia.html
---
---

Updated 5:15 PM 1/26/2013
Mark S. Carroll