William Taylor Carroll
Unknown Unit, USA
1844-189_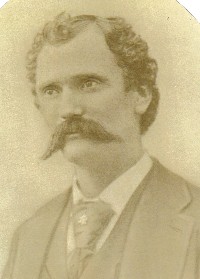 ---

William T. Carroll was born in Ohio in about 1844 or 1849. His father James was born in Pennsylvania and his mother, Hannah E. Blizzard in Indiana.
The Carrolls with their children (William, Ellen, Elizabeth, Mary, Sarah, Leonard, Columbus) settled along the Ohio River in Brown County in 1850. In 1870 the family appears on the Braken County, Kentucky census in Kentucky. William is listed as "Florence", "Taylor" and "F. William" on different census. William is listed on the 1890 Veterans Census in Woodford County, Kentucky, where he resided apparently in a boarding house. The census did not record the unit, only the length of time served as three months. Efforts to locate him in a Kentucky Union regiment have been futile. Possible matches in the 54th and 17th have proved wrong.
William was a member of the Knights of Pythias, Uniformed Reserve. This order was a fraternal and ceremonial order that was begun by former Union enlisted members and civil servants after the Civil War. There was a chapter in Versailles, Kentucky that still meets. The Uniformed Reserves provided a reserve force capable of taking up arms for the Government if required, and drilled with Army manuals. We have William's KoP sword with his name on the blade.
William's family is not seen in Kentucky census records until 1900 where showing his children still at home being born in Kentucky as early as 1880. It may be that he was also in Ohio as that is where he lived before 1860. His sister, Ellen, is buried in the Woodhill Cemetery in Shelbyville and died in 1896
Mark's Great Grandfather
---
Source: Woodford County Veterans and 1900 censuses

Updated 1:53 PM 1/27/2013
Mark S. Carroll