LYTLE FAMILY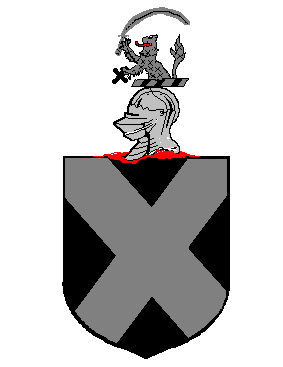 ---
Name: Scottish, descriptive, varaiations include Lyttle, Liddle, Little, Laitle, etc.
Shield:A silver St. Andrew's Cross on a black background. The black and silver are the Border Lytles' livery colors.
History: The Lytles were Norman Scots, descended from William the Conqueror and his Viking ancestors. They settled along the Scottish-English border and raided surrounding settlements. From about 1300 -1600, the Lytles were one of the clans of the West March, and distinguished themselves as one of the finest cavalry groups. Eventually they were driven from their lands as part of the English crackdown on the Border Reivers. They were dispersed to colonies around the globe from their homes in Dumfriesshire in Scotland and Cumberland in England -- This line of Lytles went to Ulster, Ireland, where they were part of the great Scottish migration there under the plantation system after the complete destruction of Northern Ireland by the English in the 1600s. Beginning in 1713, the Scots began immigrating to the American Colonies due to economic and religious persecution. Philadelphia was a favored port, and our line settled in the counties of Dauphin and Lancaster. During the Revolutionary War, John J. Lytle served in the Revolutionary Army as a private in Captain James Company of Batteauman (River Gun Boats) His cousin, Nathaniel, served in the Army and was killed around Philadelphia.
After the Revolutionary War, John's son, John J. Lytle, Jr. likely used the Ohio River to come into Kentucky where they settled in Garrad County. During the War of 1812, John, and his two brothers, Robert Parker Lytle and James Lytle, served in the Kentucky Light Dragoons.
John died in Kentucky before 1840. Family tradition has it that his daughter Sarah Jane Lytle and her sister, Susan Ann were orphaned at an early age and taken in by a German family... and that she spoke with a German accent.
The 1850 Washington County census shows Sarah with William Corbin and their children, and her sister Susan living with them. Both Sarah and Susan are listed as being born in Kentucky.
---
Some Descendants of Ephriam Lytle:

Direct Descendants of Ephriam Lytle
   
 1   Ephriam Lytle 1680 -
. 2    Nathaniel Lytle 1710 - 1748
.......  +Unknown 
.... 3   Margaret Lytle 
.... 3   Martha Lytle 
.... 3   Eleanor Lytle 1737/38 - 1814
.  *2nd Wife of  Nathaniel Lytle: 
.......  +Janet Byers 
.... 3    John J. Lytle Unknown - 1810
..........  +Mary Williams 
....  *2nd Wife of  John J. Lytle: 
..........  +Caroline Parks 
....... 4   John J. Lytle Aft. 1780 - Bef. 1840
.............  +Elizabeth McBride 
.......... 5   Sarah Jane Lytle Abt. 1826 -
................  +William Corbin Abt. 1822 -
............. 6   William T. Corbin 1849 - 1922
...................  +Elizabeth Ann Sutherd 1856 - 1912
................. 7   Georgia Agnes Corbin 1883 - 1973
.......................  +Jesse Marshall Carroll 1884 - 1950
.................... 8   James Sutherd Carroll 1913 - 1989
..........................  +Edith Rebecca May 1914 - 1982
....................... 9   Judith Ann Carroll 1945 - 1988
....................... 9   Mark Carroll 1949 -
.............................  +Zetta Lyons 1948 -
....................... 9   Susan Carroll 1952 -
................. 7   Charles E. Corbin 1894 - 1977
................. 7   Clarence Thomas Corbin 1897 - 1952
................. 7   Ada H. Corbin 1888 - 1987
................. 7   Maggie Corbin 1888 -
................. 7   Claude B. Corbin 1879 - 1947
................. 7   James Sutherd Corbin 1885 - 1938
................. 7   Woodford Corbin 1886 - 1955
................. 7   William S. Corbin 1878 - 1946
................. 7   Florence M. Corbin 1892 -
............. 6   Elizabeth F. Corbin Abt. 1848 -
............. 6   James A. Corbin Abt. 1845 - 1940
............. 6   John I. Corbin Abt. 1844 -
.......... 5   Susan Ann Lytle Abt. 1822 -
.......... 5   John P. Lytle Abt. 1808 -
.......... 5   Nancy Lytle Abt. 1810 -
.......... 5   Eliza Lytle Abt. 1811 -
.......... 5   Rhoda Lytle 1813 - 1839
.......... 5   Martha Lytle Abt. 1819 -
.......... 5   Robert Lytle 
....... 4   Robert Parks Lytle 1782 - 1849
....... 4   James Lytle 
.... 3   Rebecca Lytle 
.... 3   Saha Lytle 
.... 3   Elizabeth Lytle 1744 -
. 2   Ephriam Lytle 1714 - 1776
. 2   Andrew Lytle 1715 -


---
Lytle Family Favorites:
*Clan Little Ancestry
*Clan Little Society -- USA
*Clan Little Society Scotland
* Clan Lytle Overview
* Little Family
---
---
Sources:

The Clan Little Society of Scotland site Peggy D Munson Family Site
---

Updated 8:10 PM 1/27/2013
Mark S. Carroll