PRICE FAMILY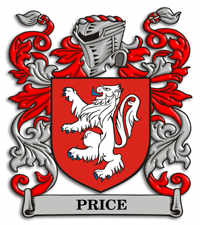 ---
Name: Patronymic from Welch "Ap-Rice" -- Son of Rice. The surname was recorded in Merionethshire where they were seated from ancient times.
Shield: Silver lion rampant of a field of red.
Motto: Auxilium Muem a Domino "My help is from the Lord" (Psalm 121)
History: Our links to the Price Family are through Zetta's mother, Nannie Mae Price, and her father's grandmother, Mary V. Price of Knox County, Tennessee. Large Price families are found throughout America. They came from Wales originally, where they were contributed many statesmen and warriors. Captain John Price was the first in America and landed in the Maryland Colony. & Phillip Price settled in the Pennsylvania Colony, and John Price was a member of the Jamestown Virginia Colony; he is the progenitor of the largest Price family and the common ancestor of most Prices in Kentucky and surrounding southern states. His descendent, Calum Price, sired a Thomas Price in 1738 in Culpeper County, Virginia. Thomas lived at Elk Garden for a while, then he enlisted in Captain John Lewis' Company of Augusta County, under Colonel Charles Lewis' regiment, a nd fought the Indians in Lord Dunmore's War in 1774 at the Battle of Point Pleasant. He fought in the Revolutionary War, and was at the battle of King's Mountain on October 7, 1780. After the war, he and five sons came to Kentucky. Although Thomas and sons William and John moved on to Posey County Indiana, the other sons remained in Kentucky.
Cullum Price, born 1782, settled in Esitll County and farmed. His descendants in our line include Adam Price, Henry Price, and Thomas Price, all of Estill/Lee County. Henry Price enlisted in the 32 Ky Infantry during the War Between the States.
---
Some Descendants of Cullum Price
Cullum Price Bef. 1782 -
. +Betsy Unknown Bef. 1783 -
........ 2 Adam Price Abt. 1798 -
............ +Halley (Mary) Unknown Abt. 1803 -
................... 3 Henry Price Abt. 1845 -
....................... +Laura Gabbard Bef. 1866 -
.............................. 4 Thomas Charles Price Abt. 1882 -
.................................. +Lucinda Dunaway 1887 - Abt. 1932
......................................... 5 Herman Charles Price 1906 -
......................................... 5 Flora Price 1908 -
............................................. +Hezekiah C. Branson - 1981
......................................... 5 Nannie Mae Price 1910 - 1999
............................................. +Richard Nathaniel Lyons, Jr. 1887 - 1958
.................................................... 6 Zetta Lyons 1948 -Living
........................................................ +Mark Carroll 1949 - Living
......................................... 5 Dorothy Price 1912 - 1994
............................................. +Sherman Johnson 1908 -
......................................... 5 Effie Price Abt. 1914 - 1997
............................................. +1. Elmo Vanderpool ? -
............................................ +2. Steve Sanders ? -
.............................. 4 William C. Price Abt. 1874 -
.................................. +Sally Ann Johnson Abt. 1877 -
.............................. 4 Brack H. Price Aft. 1881 -
.............................. 4 Grant Price Aft. 1881 -
.............................. 4 Harvey Price Aft. 1881 - Bef. 1991
.............................. 4 Robert Price Aft. 1881 -
.............................. 4 Eliza Jane Price Abt. 1872 -
.................................. +Daniel Gallagher Abt. 1865 -
.............................. 4 Moses Price Aft. 1881 -
................... 3 Nelson Price Abt. 1847 -
....................... +Margaret Reese Abt. 1853 -
................... 3 Caroline Price Aft. 1819 -
....................... +Irish Baker Aft. 1819 -
.............................. 4 Patsy Baker
.............................. 4 Henry Baker
................... 3 Elias Price, Sr. 1819 -
....................... +Celia Gumm 1822 -
.............................. 4 Stephen Price Aft. 1837 - 1857-1917
.............................. 4 Elias Price, Jr. Aft. 1837 -
.............................. 4 Isaac Price Aft. 1837 -
.............................. 4 Harvey Price Aft. 1837 -
.............................. 4 Nelson Price Abt. 1880 -
.................................. +Mollie Cole Abt. 1885 -
................... 3 Armine Price Aft. 1819 -
....................... +Arman Neely -
.............................. 4 Ellias Neely
.............................. 4 Isaac Neely
.............................. 4 Jess Neely
.............................. 4 Etta Neely
.............................. 4 Emma Neely
.............................. 4 Maggie Neely
................... 3 Mary Price Aft. 1819 -
....................... +Isaac Addison Bef. 1819 -
.............................. 4 Ellias Addison Aft. 1835 -
.............................. 4 William Addison Aft. 1835 -
.............................. 4 Hollie Ann Addison Aft. 1835 -
.............................. 4 Rowland Addison Aft. 1835 -
.............................. 4 Benjamin Addison Aft. 1835 -
---
Price Family Favorites:
---
---
Sources
* Early Families of Eastern and Southeastern Kentucky
---

Updated 9:37 PM 1/27/2013
Mark S. Carroll