CANNONBALL WORLD RECORD ROUTE
The excerpt below describes the route, and it is followed by a map of the US where the route is highlighted. Users may select "legs" of the highlighted route for detail view and description of the Odyssey of Cannonball '75.
---
Our selected route was ours alone so far as we knew. After avoiding six "Smokeys taking pictures" (patrolmen with radar) on the New Jersey Turnpike on my trip into NYC, I was certain the Turnpike should be bypassed. Thus, the more northern route across Pennsylvania on Interstate 80 was dictated. We would then cut south to Columbus and on to Dayton and Vandalia, all in Ohio. Then our route would lead us into Indiana on Interstate 70. Tere Haute was next, then to St. Louis and over the Mississippi River -- Gateway to the West!
After St. Louis the choices became much less obvious. We accepted Robert Frost's advice and took the road not taken. We decided to take some chances. In an attempt to motor as much as possible in the flat midland of our big country with our six Weber carbs well open, we marked on our map with yellow felt tip about six hundred miles of two-lane roads, commencing in Kansas. We would stay on I-70 to Kansas City, drop down to Tucumcari, New Mexico, cutting through Oklahoma and Texas en route. At Tucumcari, we picked up another interstate, I-40. This would lead us through Albuquerque, and mid-way into Arizona, where, past Flagstaff, we planned to cut south through the Prescott National Forest for several hundred miles and pick up Interstate 10, the southern and fastest looking route to Los Angeles.
---
Detailed route viewing is under construction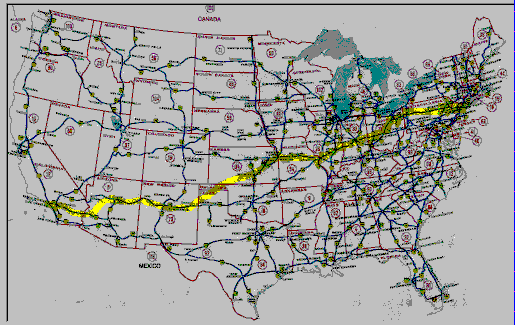 ---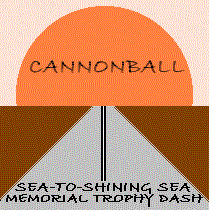 Home
Copyright
Web Design by Mark Carroll