YORK FAMILY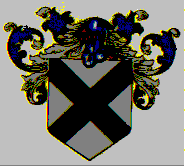 ---
Name: The surname was recorded in Wiltshire where they were seated from ancient times. British Eburac (=yew tree), Latinzied, mistranslated by Anglo-Saxons as Eoforwic (=wild boar Wick), then Scandinavized by Vikings to "Vorvik", finally became "York." English city and county.
Shield: A black St. Andrew's Cross on a field of silver
History:
This history of our line of York begins in England with Jeremiah York born before 1700. He had five sons: Semore, Henry, John and (likely) Thomas & Davis. They came to the colonies and are seen first in Nottingham Township, Chester County, Pennsylvania between the years 1718-1729.1
The family moved to the Pipe Creek Settlement (Union Bridge,Carroll County) of Maryland between Baltimore and Philadelphia in the early 1700's.2 By 1750 the Yorks had moved to Granville County, North Carolina in the Sandy Creek and Mount Pleasant Creek region (today Randolph County). The Yorks became involved in the Baptist revival of their era, and Semore donated land for the Creek Baptist Church. He lies at rest in its cemetery where his stone reads "S Y, 8 Feb 1783"3
Semore was loyal to the crown.... a Tory, as is shown in the following commission.
"To…William Fields, James Hunter, Robert Fields, Jeremiah Fields, and Seymoure York, Esquires of the County of Guilford; Greetings:
I hereby grant to you power and authority to form the forces you shall so raise, into companies of fifty men each, and to appoint one Captain, …and I do hereby give you…full power and authority to seize and take whatsoever may be necessary of arms, ammunition, provisions, horses, and carriage for the subsistence and accommodation of His Majesty's faithful subjects…"4
Unfortunately, for him, he was not a very successful Tory. He led his 34-man company into the into the battle of Moore's Creek Bridge near Wilmington, North Carolina, on February 27, 1776. The British fared very badly, and Semore was captured and jailed in Halifax. In October, his wife, Sylvania Aldridge York, petitioned for, and secured, his release.5
Semore's descendants are located throughout the South and include such famous men as Alvin C. York (believed to be our third cousin three times removed), the most decorated soldier of WWI. Our line came from the union of Jeremiah York and Sarah Allred in North Carolina. We suspect that these families had had previous connections as the names appear together in Pennsylvania and Maryland. Jeremiah and Sarah eventually settled in Clay County, Kentucky.
---
Some Direct Descendants of Jeremiah York, Sr.
1 Jeremiah York, Sr.
........ 2 Jeremiah York, Jr. 1701 -
.............. +Sarah Seymour 1706 -
................... 3 Semore York, Sr. 1727 - 1783
......................... +Sylvanus Aldridge 1729 -
.............................. 4 [1] Jeremiah York 1753 - 1835
.................................... +Sarah Allred 1757 -
......................................... 5 Jeremiah York 1779 - 1843
............................................... +Elizabeth Leah Clark 1774 - 1856
.................................................... 6 Leah York 1799 - Bef. 1900
.................................................... 6 Joseph York 1803 -
.................................................... 6 Fanny York 1806 - 1891
.................................................... 6 William J. York 1808 -
.................................................... 6 David York 1810 -
.................................................... 6 Sarah York 1812 -
.................................................... 6 Alfred York 1814 - 1897
.......................................................... +Sarah McDonald Cole 1820 - 1897
.............................................................. 7 William J. York 1841 -
.............................................................. 7 Marticia Cole York 1843 - 1893
.............................................................. 7 Letitia Dow York 1849 - 1924
.................................................................... +Richard Nathaniel Lyons, Sr. 1845 - 1919
......................................................................... 8 William Alfred Lyons, Sr. 1885 - 1965
......................................................................... 8 Richard Nathaniel Lyons, Jr. 1887 - 1958
............................................................................... +Nannie Mae Price 1910 - 1999
.................................................................................... 9 Son Lyons 1932 - Living
.................................................................................... 9 Daughter Lyons 1935 - Living
.................................................................................... 9 Anna Lee Lyons 1943 - 1962
.................................................................................... 9 Son Lyons 1948 - Living
.................................................................................... 9 Zetta Lyons 1948 -
.......................................................................................... +Mark Carroll 1949 -
.............................................................. 7 Jesse York Abt. 1851 -
.............................................................. 7 Mary Elizabeth York 1856 -
.............................................................. 7 Sarah G. York 1856 -
.............................................................. 7 Emma J. York Abt. 1859 -
.................................................... 6 Elizabeth York 1817 - Bef. 1917
......................................... 5 Semore York
.............................. *2nd Wife of [1] Jeremiah York:
.................................... +Tamer Unknown Abt. 1753 - 1775
.............................. 4 Dorcas York 1757 -
.............................. 4 Issac York 1757 - 1806
.............................. 4 Shubal York, Sr. 1759 - 1816
.............................. 4 Semore York, Jr. 1762 -
.............................. 4 Martha York 1768 - 1848
.............................. 4 John York 1772 - 1827
.............................. 4 Tabitha York 1773 -
.............................. 4 Sarah York 1775 - 1816
.............................. 4 Jabez York 1776 - 1855
.............................. 4 William Alfred York Aft. 1777 -
................... 3 Henry York 1732 - Bef. 1832
................... 3 John York Abt. 1727 -
................... 3 Thomas York Abt. 1730 -
---
York Family Favorites:
---
Sources
1 Extracted from post of Mike Marshall on April 27, 1998 on York Forum
2 Ibid
3 Email of Dennis R. York, Jr. posted on the York Mail List
4 Order of January 10, 1776: Governor Josiah Martin (the last royal governor of NC)
5 Randolph County History Book
6 Crest design provided by Jo Ann Rogers
---
---

Updated 9:32 PM 1/28/2013
Mark S. Carroll