LYONS FAMILY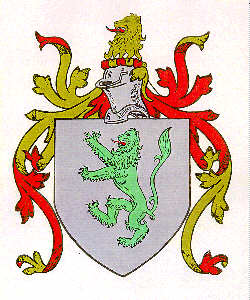 ---
Name: The English nickname Lyon, given to the brave or fierce warrior, from the Old French lion, from Latin Leo/Leonis. An alternate source of this name is from Gaelic surnames (see Irish source here)
Shield:A green lion rampart on a field of silver
Battle Cry: Noli Irriotare Leones (Don't Anger the Lions!)
History:
The family came to England during the Norman Conquest; hence they were likely originally of Viking heritage. They fought in the Battle of Hastings in 1066 A.D. and distinguished themselves. Duke William of Normandy, their liege Lord, gave them land grants for their service. The surname was first recorded in Norfolk, England. The family spread to Scotland and Wales, and then in the 1600s and 1700s to Ireland. The Lyons migrated to America throughout the Colonial period. Many were probably Scotch-Irish. Some settled in the Northern colonies, like New York and Pennsylvania, and moved down the Shenandoah into the mountains of Maryland, Virginia, and North Carolina, before crossing over into Kentucky and Tennessee and establishing homes in the Appalachians. Our specific branch of the Lyons family may be definitely traced to Knox County, Tennessee. It was listed as the birthplace of the parents of Richard Nathaniel (1845) Lyons, Sr. on many legal instruments. His mother was Mary "Polly" V. [Price] Lyons (1825), and his father was William Lyons (1818). William and Mary moved (probably along the Tennessee River) from Knox County to DeKalb County, Alabama in the 1840s after the Cherokee Removal. They obtained Federal Land Patents (see map) and lived, in what is now Fort Payne, close Lyons from Knox County, Tennessee: Specifically John Lyons (1800) believed to be William's uncle; Pocious (1819) , believed to be his brother (he was Richard Nathaniel's uncle by legal deposition made by PM Lyons in 1860); Thomas (1823) Lyons, believed to be his brother; and Nathaniel (1797) Lyons, believed to be his father (see analysis). It is widely held that John Lyons (1765) was the father of this Nathaniel, and that John's father was Nathaniel (1735) who was a pioneer in Knox County, Tennessee, and at least one source has the father of Nathaniel to be Humberston Lyon (1690) of Augusta County, Virginia. Umberston Lyon was first settled in the vicinity of Frederick Maryland, where he signed a petition to form All Saints Parish and is listed on the tax rolls. He was a constable there.
Richard Nathaniel Lyons, Sr. left home in 1859 and resided for some time with his uncle Pocious. Then he left Alabama at some point after 1860, and in 1863 enlisted at Louisville in Battery C of the Kentucky Light Artillery, USA. He saw action in and around Kentucky, and was part of the campaign in the west at the Battle of Little Rock, Arkansas. After the war he settled in the Kentucky boomtown of Proctor in Lee County at the Forks of the Kentucky River. His brother William, and half brothers Daniel, William & David Wade, and step brother, Ira K. Wade joined him. He was a master carpenter and stonemason. He built the beautiful St. Thomas Episcopal Church on the hill overlooking Beattyville and a Victorian home which overlooked one of the largest lumber yards in the South. The Church is one of the finest examples of a country English Gothic style in the Southern Highlands. His son, Richard Nathaniel, Jr. (1887) remained in Beattyville, and was a master brick mason. He built many fine structures to include the Presbyterian Church in downtown Beattyville. He probably also built our home on Southfork, based on the similarities of the brick pattern (Flemish Bond) between our home and the Presbyterian Church. His descendants and those of his half and step brothers are to be found in Lee County, and are spread throughout Kentucky, Ohio, Wisconsin, and Colorado.
Note:See shield on the Lyon(s) family association homepage.
---
Selected Descendants of Humberston Lyon
1 Humberston Lyon 1690 - 1743
........ 2 Nathaniel Lyon(s) Abt. 1735 - Abt. 1820
............ +Margaret Armstrong 1740 -
................... 3 [1] John Lyons Abt. 1765 - 1808
............................. 4 Mary Lyons Abt. 1796 -
............................. 4 George Washington Lyons Abt. 1796 -
............................. 4 Francis Irwin Lyons Bef. 1808 -
............................. 4 Margaret Lyons 1795 -
............................. 4 Elizabeth Lyons Abt. 1797 -
............................. 4 Nathaniel Lyons 1797 -
................................. +Betsy Cook Bef. 1800 -
........................................ 5 James Lyons 1816 -
........................................ 5 William Lyons Abt. 1818 - Bef. 1850
............................................ +Mary V. Price Abt. 1825 -
.................................................. 6 John Lyons, Sr. 1839 - 1859
.................................................. 6 Nancy E. Lyons 1841 -
.................................................. 6 Amanda Lyons 1843 -
.................................................. 6 [2] Richard Nathaniel Lyons 1845 - 1919
...................................................... +Laura Mary Daniel 1846 - 1883
............................................................. 7 Scott Winfield Lyons 1868 - 1887
............................................................. 7 Zilla Alice Lyons 1870 - 1955
............................................................. 7 Mary Willie Lyons 1871 - 1896
............................................................. 7 Walter Childs Lyons 1874 - 1965
............................................................. 7 Daniel Preston Lyons 1877 - 1887
............................................................. 7 John Marcus Lyons 1879 - 1977
............................................................. 7 Nora Pal Lyons 1881 - 1929
.................................................. *2nd Wife of [2] Richard Nathaniel Lyons:
...................................................... +Letitia Dow York 1849 - 1924
............................................................. 7 William Alfred Lyons, Sr. 1885 - 1965
............................................................. 7 Richard Nathaniel Lyons 1887 - 1958
................................................................. +Nannie Mae Price 1910 - 1999
........................................................................ 8 Zetta Doyle Lyons 1948 -
........................................................................... . +Mark Sutherd Carroll 1949 -
.................................................. 6 Martha Ann Lyons 1847 -
.................................................. 6 William M. Lyons 1849 - 1917
........................................ 5 Portius Meade Lyons 1819 - 1885
........................................ 5 Johnson Lyons 1820 -
........................................ 5 Thomas Lyons Abt. 1823 -
........................................ 5 John M. Lyons 1824 -
........................................ 5 Martha A. Lyons Abt. 1826 -
........................................ 5 Anderson Lyons 1828 -
........................................ 5 Wiley Cook Lyons 1831 - 1911
........................................ 5 Margaret Lyons 1833 -
........................................ 5 Emily Lyons 1836 -
............................. 4 Jane Lyons Abt. 1798 -
............................. 4 John Lyons 1797 - Abt. 1855
................... 3 Thomas Lyons 1770 - 1849
................... 3 Eleanor Nellie Lyons 1778 - Abt. 1855
................... 3 Elizabeth Lyons Abt. 1790 -
........ 2 Humberston Lyon 1724 - 1784
........ 2 Stephen Lyon 1726 - 1754
........ 2 Hannah Lyon 1728 -
........ 2 John Lyon 1730 -
........ 2 Alexander Lyon 1732 -
........ 2 James Lyon 1736 - 1817
---
Family Favorites:
* Lyon(s) Family Association Homepage * Lyons Family Gen Forum *
---
---
Sources:
*
---

Updated 6:01 PM 1/26/2013
Mark S. Carroll